Socks are one of the top gifts for Father's Day.
AB Inbev took advantage of a great opportunity.
Anheuser-Busch Inbev is the biggest beer company in the world. Ab Inbev focuses on brewing beer and building brands that will continue to bring people together for the next 100 years and beyond. With centuries of brewing history, they've seen countless new friendships, connections and experiences built on a shared love of beer.  
Name a better combo...we'll wait.
When AB InBev reached out to us, their eCommerce marketing team was looking for a fresh new idea for Father's Day gift items. After some quick research, they discovered that socks ranked very high on "best gifts for dad" lists across the internet. With this information in hand, the team decided to move forward with creating a custom sock design.

After nailing down final plans for the promotion, we created a custom sock, a design full of orange slices that would be paired with a four pack of Shock Top, one of their top selling beers. Each four pack purchase would receive a sock as well, pulling together two of Dad's favorite things in one gift. With custom packaging, this sock shined on the shelves as a unique and out of the box gift idea for Father's Day. Mission accomplished.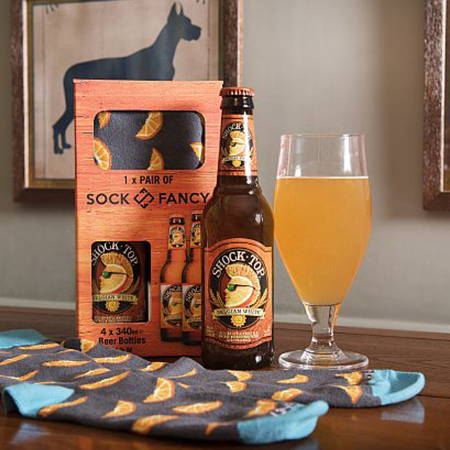 "I was working on some crazy Father's Day ideas. I've been looking into what people buy as gifts for their Dads, and socks is in the top 4 ranking (not surprised!). We paired these with our beer in a fantastic pack as the perfect gift for Fathers Day."
— Magdalena De Stefano, eCommerce Marketing, Ab Inbev
Get started today with a free virtual mockup! 🧦